Video: Victim Gives 'Scary' Account Of How She Escaped From Ritual Killers
Twenty (20) year old Philippa Ocran, a dressmaking apprentice resident in Bakakyir a suburb of Sekondi has finally spoken about circumstances that led to her kidnap and eventual escape from an attempted ritual offering. The young woman who went missing on Monday morning at 05:00 GMT said she was given a ride in her vicinity when she was leaving for work that day. Phillipa disclosed that it was a blue-black salon car with a female driver and a male in the car when she boarded.
Speaking on Skyy Power Fm, the young apprentice said, another man boarded the vehicle a few minutes into the ride. She indicated that she was seated in between the two men, when suddenly, one of them asked she picks a phone on the floor for him.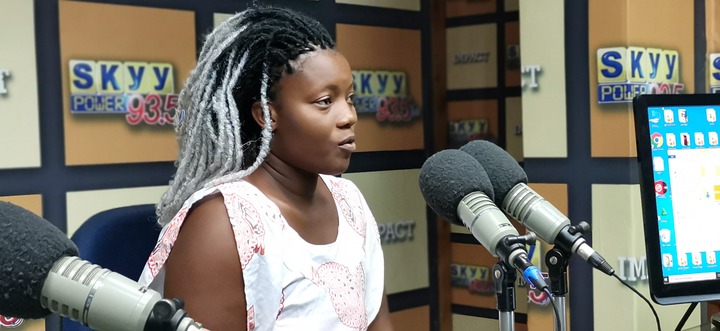 "Along the way, they picked another man, and I was the only one in seated in their midst. One asked that I pick a mobile phone on the ground, and that was it. All that I realized afterward was that I was sleeping in a big uncompleted room."
Phillipa disclosed that she regained consciousness only to see those that picked her stand in a room with her. She was scared and struggled to make a phone call to her family but they snatched the phone. She mentioned that her kidnappers were caught up in a disturbing conversation when she heard one say; "we can't use her, go and dump her somewhere."
"I struggled to make a phone call to my sister but the lady saw me and commanded me to release the phone. They managed to switch the phone off. Later they came and in murmuring, I head them say hey can't use me, and that they must discard me."
She disclosed that the kidnappers knocked her out of her consciousness, and only found herself by the Sekondi Sub-Metro Office around 12 midnight.
" Hours later, I found myself by the road at Sekondi Sub-metro. I was so weak to rise and walk."
The video below is an excerpt from a conversation she had on Skyy Power Fm.