NDC backs down on compilation of New Voters Register, calls on EC to furnish it with manuals et al
The National Democratic Congress has per a letter summited to Ghana's election management body; the Electoral Commission, sought to register their commitment towards the upcoming voter registration exercise, one that they had protested for months.
The content of the letter as signed by the General Secretary, Johnson Aseidu Nketsiah suggested the party had rescinded its decision to stop the EC from ever compiling a new voters register.
Johnson Aseidu Nketsiah in the letter addressed to the Chairperson of the Electoral Commission, acknowledge the EC's preparedness to undertake the voter registration.
He thus, has requested on behalf of the NDC, that the EC furnish them with;
1. Training manuals for registration officials for 2020 registration exercise.
2. Training manuals for political party agents for the registration exercise.
3. Other documents and forms relevant to the 2020 registration exercise.
Below is a copy of the letter.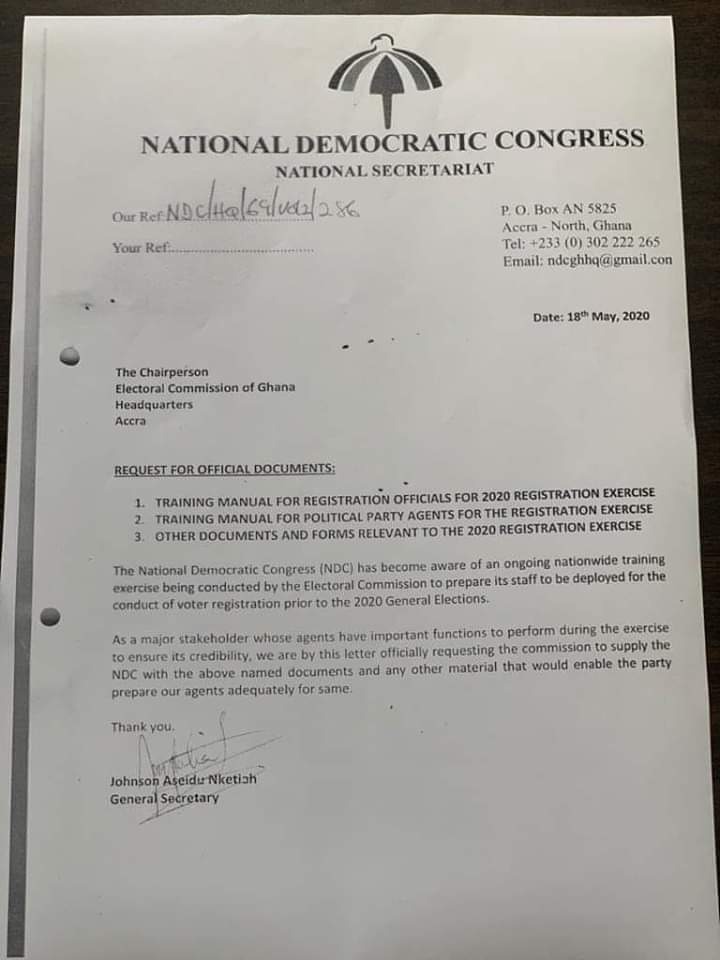 "As a major stakeholder whose agents have important functions to perform during the exercise to ensure its credibility, we are by this letter officially requesting the commission to supply the NDC with the above named documents and any other material that would enable the party prepare our agents" the letter read.
Although no hint has been given of a date for the conduct of the registration exercise, sources say, the new voters registration exercise will kick off by June this year.